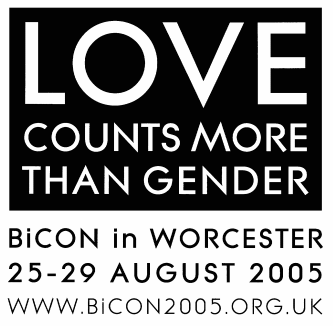 BiCon is an annual weekend-long gathering for bisexual people, their friends, partners and anyone with a supportive interest in diversity. Each year it is held in a different city, with this year's event taking place in Worcester over the August bank-holiday weekend (25th-29th August).
BiCon aims to provide a fun-filled safe space with discussions and workshop sessions covering a range of subjects – from coming out stories & bi parenting to more academic issues and those relating to building relations with the gay, lesbian & transgender communities.
Although BiCon is a residential event, every year we have a large number of people who come along just for a single day. If you're not staying on site, there's no need to pre-book. Our reception desk will be open from 9am on Friday, Saturday & Sunday. Pricing is on a sliding scale based on income, and day tickets start at £17.
We've tried to make this website fairly self-explanatory, but if you have any queries, then email deleted or call our helpline on 07910 xxxxxx.
If you would like to receive further information by post, please send a stamped, self-addressed envelope to: BiCon2005, BM BiCon address no longer exists.